In an attempt to undermine the security industry's effort to educate end users about phishing campaigns, malicious actors are evolving in their tactics, according to Zscaler.
In a recent blog published by Zscaler Threat LabZ, Deepen Desai and Rohit Hegde detailed findings of new research into phishing activities. According to the findings, Microsoft, Facebook and PayPal are the top brands that are being targeted by phishing campaigns.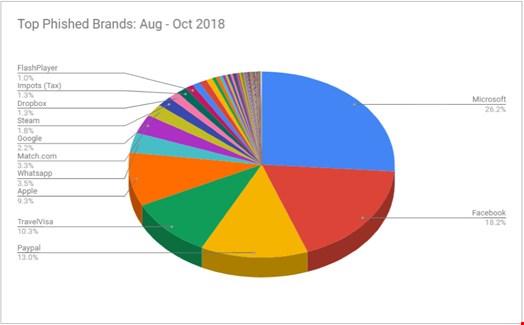 The top five sector categories that are most commonly targeted are communications (41.4%), social media (18.3%), finance (16.7%), travel (12.4%) and dating (3.4%).
"In addition to the known brands, it was interesting to see phishing campaigns targeting Travel Visa portals (Canadian Visa and Australian Visa, for example) included in our top five most targeted brands. The attackers in this case were most likely interested in phishing for sensitive immigration information, such as passport details, date of birth and national identification numbers," Desai and Hedge wrote.
Notably one of the best tools in a hacker's toolbox, phishing is a successful tactic long used by attackers who are looking to steal personally identifiable information, such as Social Security numbers, credit card details, date of birth, and other sensitive data.
Wrote the authors, "About 65% of all phishing content we've seen in the past three months was over HTTP and the remaining 35% was over HTTPS. This represents a 300% increase in phishing content being delivered over HTTPS since 2016."
Because the security industry has been diligent in its efforts to raise awareness, putting great effort into educating users how to identify phishing sites, cybercriminals have reportedly had to up their game. The attackers have had to get creative in order to trick better-informed users, and they are reportedly now carefully designing sites to look identical to the popular brands they are imitating.  
"As the end users become more vigilant against clicking suspicious links, attackers have also upped the ante by evolving the way in which the phishing content is being delivered as well as tactics being leveraged to make the phishing pages stay undetected for longer period," they wrote.